The Homecoming Dance is fast approaching, and Cordelia's only concern is whether or not she should ride a limo to the dance after being elected Homecoming Queen. Buffy is a little less into the Dance concept, even though Scott (belatedly) asks her to go to it. Excusing herself, she goes to the mansion, bringing a recovering Angel a container of blood for dinner. She tells him about her life and about Scott, saying that he's what she needs—someone she can count on. As if on cue, Scott breaks up with her the next day, saying she seems distracted all the time. As Buffy stands there, disconsolate, she is watched from afar by two men in a van, who send her image via modem to an aging man in a wheelchair. "Is that her?" he asks. "In the nubile flesh," confirms Mr. Trick. "That's the target."
At City Hall, the deputy mayor brings the two men in the van, a pair of German terrorists, to the attention of the mayor. However, despite ordering the Germans to be watched, the mayor seems more interested in the deputy's hygiene. He asks the rattled deputy to keep an eye out for any more "colorful characters" in Sunnydale. After getting their yearbook pictures taken, Willow and Xander come upon Cordelia, at her most catty as she checks out the Homecoming Queen competition. Willow worries about Buffy missing the yearbook picture session, but Cordelia promises to tell her. Buffy is in the library, training with Faith, who approves of the edge Buffy's breakup-fueled feelings have given her fighting. Faith suggests that they go to the dance together and have a good time, and Buffy accepts. Cordelia, about to enter the library, is instead distracted by a couple of potential Homecoming Queen votes. Later, at lunch, Buffy is upset over not being remembered by her favorite teacher, and she only gets more upset when Xander tells her she missed the yearbook picture-taking session. She angrily confronts Cordelia, who dismisses her complaints. "I'm under a lot of pressure here," Cordy says. "I'd like to see you win the crown." She is then surprised when Buffy accepts her challenge, promising to run for Homecoming Queen, and to win. Winning is also on the minds of a group that has been brought together by Mr. Trick, which includes the Germans, as well as Lyle Gorch and his new wife Candy, and a spiny-headed demon named Kulak. Trick tells them about their targets, Buffy and Faith, and welcomes them to "SlayerFest '98."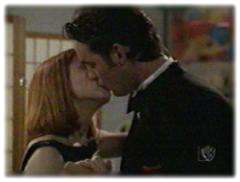 Willow and Xander try on their outfits for the Homecoming Dance and chat like old friends. But after Willow helps Xander with his bowtie and Xander shows Willow how to dance, something more is in the air. Before they know it, Willow and Xander are kissing each other passionately. Then they break apart, freaking out big time. Later, as Buffy plans her Homecoming Queen campaign and tries to enlist their aid, Xander and Willow and Oz look miserable—because they're already helping out Cordelia. Buffy tries to make light of the competition, but it's clear that she's upset. Buffy later guilts Willow into helping her out a little, and (overheard by the Germans) tells Willow that she's worked out a plan with the limo drivers. As Buffy and Cordy nearly get into a screaming match in the hallway, Willow and Xander are feeling real guilt, because their helping Cordelia out of guilt over their kiss is wrecking their friendships. And they don't know what to do about their growing feelings for each other, either. That night, Buffy gets into the limo to find, instead of the expected Faith, Cordelia sitting in the back. Their friends apparently set this up as a way to get them talking, and even gave them corsages. The two girls are icily civil, but when the limo stops they find they're in the middle of nowhere. They find a TV set and VCR, on which Mr. Trick tells them to run for they're lives, 'cause they're the prey.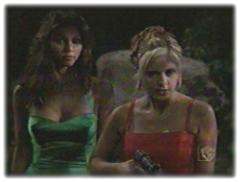 At the Homecoming Dance, Willow and Xander are unbelievably mopey, but Giles doesn't notice and goes back to the library. Buffy and Cordelia barely escape a bullet from a human hunter's gun, but then the hunter gets caught in a bear trap and Buffy gets his gun and information about the other hunters. The two girls make it into a cabin, where they manage to phone Giles and leave a message on the library answering machine before the Germans' boss cuts them off. Then, while they wait to escape, Buffy explains her desire to be Homecoming Queen to Cordy—all she wants is something to prove that she's more than just a Slayer. Then Kulak, the demon, bursts through the window. Buffy barely manages to hold him off, but then the Germans launch a grenade through the window. Buffy and Cordy manage to get out through a window, but Kulak is trapped and goes up with the cabin when the grenade explodes. The girls high-tail it back to the library, where Lyle and Candy Gorch are in the weapons as Giles lays unconscious.
The Germans' boss tracks the girls' getaway, and Trick voices grudging approval as someone knocks on the door. It's the police, who take Trick away. Buffy and Cordelia return to the school, but as soon as they enter the library they're attacked by the Gorches. Buffy gets knocked out by Candy, but not before staking her with a spatula that Cordy picked up in the cabin. Candy disintegrates, and Lyle is enraged. But before he can attack Buffy, Cordelia steps in and claims that Buffy is just the runner up. "I'm the Queen," Cordy says. "What do you think I'm gonna do to you?" Lyle, rattled, beats a hasty retreat, and Giles comes to. They all realize that the corsages weren't from their friends, and conceal tracking devices the Germans have been using. Then the Germans arrive. Buffy runs, drawing their pursuit, and uses wet toilet paper to stick the tracking devices to one of the Germans. The two Germans take each other out. At City Hall, the mayor meets with Mr. Trick, telling him that children are important to him, but that the "rebellious element" must be controlled. He congratulates Trick on SlayerFest and says that they're going to get along just fine. A ragged Cordy and Buffy finally make it to the Homecoming Dance just as the Queen is announced. It's a tie—between the other two candidates. Disgusted, Buffy and Cordy walk out together.