BuffyGuide.com — The Complete Buffy Episode Guide
Graduation Day, Part Two
July 13, 1999
3ABB22
Synopsis

Since Buffy's attempt to feed Faith to Angel failed, she forces him to feed off of her to save his own life. Once he does, he rushes her to the hospital, where the gang berates him. Nonetheless, they all work together to stop the Mayor from feeding on the seniors by waiting until he ascends, luring him into the library, and blowing him (and the school) to smithereens. Meanwhile, Faith lies in a coma, from which the doctors don't expect her to ever wake.

For the full, detailed synopsis, click here.

Back to Top

Monstervision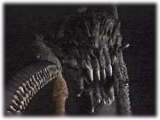 The fact that the Mayor/demon took the shape of a giant serpent shouldn't be too surprising. In Western culture especially, serpents/snakes are consistently associated with evil (as in the Bible) and maliciousness, or loathsomeness at the very least.


The big climactic fight scene, with the herd of armed students running down the steps, was reminiscent of "Braveheart."
Back to Top

Body Count
Anonymous Student

Eaten by the Mayor at the graduation ceremony.
Anonymous Vampire

Hit with a flaming arrow by an anonymous student at the graduation ceremony.
Anonymous Vampire

Hit with a flaming arrow by an anonymous student at the graduation ceremony.
Anonymous Vampire

Hit with a flaming arrow by an anonymous student at the graduation ceremony.
Larry

Whacked with the Mayor's giant tail at the graduation ceremony.
Principal Snyder

Eaten by the Mayor at the graduation ceremony.
Harmony

Bitten by an anonymous vampire at the graduation ceremony.
Anonymous Vampire

Staked by Cordelia at the graduation ceremony.
The Mayor

Blown to pieces by Buffy, Giles, and the gang at the graduation ceremony.
Total: Nine
Back to Top
Dialogue to Die For
Willow: "He's delirious. He thought I was Buffy."

Snyder (shouting up at the Mayor/Demon): "This is not orderly! This is not disciplined! You're on my campus, buddy, and when I say I want quiet, I mean —" (The Mayor interrupts by eating him.)
Giles: "There is a certain dramatic irony attached to all this. A synchronicity that borders on predestination, one might say."
Buffy: "Fire bad. Tree pretty."
Oz: "Guys. Take a moment to deal with all this. We survived."
Buffy: "It was a hell of a battle."
Oz: "Not the battle. High school."
More quotes from this episode...
Back to Top
Dialogue to Bury
Xander: "You still battin' zero? But, I mean, uh, in cricket?"
(This is taking the cultural-stereotype-thing a tad too far, especially right on the heels of the line about tea vs. coffee.)
Back to Top
References
Xander: "Here's your coffee. Brewed from the finest Colombian lighter fluid." — Colombian coffee is thought by many to be the best coffee in the world, and "brewed from the finest Colombian coffee beans" is a coffee commercial tagline (don't ask us which coffee commercials; we cannot recall).

The Mayor (after Angel sends him flying): "Well. Looks like someone's been eating his spinach." — The Mayor is comparing Angel to "Popeye the Sailor Man," a cartoon character who eats spinach (usually canned) to keep his strength up and his arms bulging. Popeye originated in a comic strip, and ended up on both television and movies. Popeye was originally drawn by Elzie Segar, and is currently drawn by Hy Eisman.

Faith (in Buffy's dream): "Oh yeah. Miles to go. Little Miss Muffet counting down from seven three oh." — "Miles to go" is a reference to Robert Frost's poem "Stopping by Woods on a Snowy Evening;" the same reference was used in "The Prom." "Little Miss Muffet" is a nursery rhyme: "Little Miss Muffet, sat on a tuffet, eating her curds and whey; along came a spider, who sat down beside her; and frightened Miss Muffet away." Doesn't really sound like Buffy, does it? (Though it's likely that Buffy's unconscious is thinking of the spidery things the Mayor had to eat.) As for the "seven three oh" (and yes, it's "three," not "through") thing, your guess is as good as ours. Most theories involve the fact that 730 is 365 times two, and therefore Faith may be referring to something that happens two years from now — the end of "BtVS," some bigger part of the Mayor's plan, the end of Buffy's reign as Slayer, the ultimate victory against demons, etc. Others think she's referring to something that happened two years ago; others think the Mayor had 730 spiders left to eat (this seems pretty unlikely). Our favorite theory is that it was about 7:30 in the morning when Buffy was dreaming, and Faith was telling her to get a move on. Of course, it's always possible that it meant nothing; just gibberish in Buffy's stressed out mind. Joss does like to tease us.

Oz: "We attack the Mayor with hummus." — Hummus is a Middle Eastern dish; according to Infoplease, "a paste or dip made of chickpeas mashed with oil, garlic, lemon juice, and tahini and usually eaten with pita."

Cordelia: "No no, we get a container of ebola virus ... or it doesn't have to be real, we could just have a box that says 'ebola' on it, and we could chase him ... with the box." — The ebola virus (very similar to the Marburg virus) is an extremely transmittable virus discovered in 1976. Ebola has a mortality rate of 50-90%; most cases have been in Africa, where the virus is thought to have originated in primates.
Back to Top
Continuity
Halloween — Buffy refers to when Xander became "soldier guy" in Halloween and asks him to call upon what he learned then.

Innocence — Xander thinks Buffy wants to use a rocket launcher; a reference to when he used his soldier-knowledge to break into an military base and steal a rocket launcher (which Buffy used to kill the Judge).

Enemies — It's worth noting that Buffy kisses Faith on the forehead after her dream. In "Enemies," after Faith and Buffy fought and ended up with their knives at each other's throat, Faith told Buffy she was not ready to be a murderer ... and kissed her on the forehead before running out. Whether the connection is intentional is uncertain, but it seems likely.
Back to Top
Goofs and Gaffes
When Angel first gets out of bed (toward the beginning of the episode), the tattoo which is usually on his back is not there. A bit later, when he is biting Buffy, it is there. — Submitted by Mathew.

Perhaps he was out of it due to grief, but you'd think the Mayor would have heard Angel's voice and realized Buffy was in the hospital before the nurse came in and told the other doctor; the door between the rooms was wide open.

When Angel uses the payphone, you can see the reflection of his fingers and then his shirt in the chrome plating of the phone. A bit later, when he pulls the Mayor off of Buffy, you can briefly see his reflection in the glass of the room's door. — Submitted by Mathew.

When Oz and Willow are talking in Oz's van, Willow's jacket moves to her left as the camera looks at Oz, then it moves back again. You can see her head while the camera is on Oz, and she doesn't appear to move (certainly not enough to rearrange her jacket that much). — Submitted by Mathew.

At the beginning of the graduation ceremony, it appears that the ground is dry (it's very hard to tell for sure), and the aisle between the two sections of students is clean. After the eclipse, the aisle is littered with dirt or leaves, and the ground appears wet (as though it has rained or sprinklers have gone off). — The part about the ground being wet was submitted by Mathew.

At the end, when the gang is discussing the battle, there is a couple walking down the sidewalk, away from the group. The camera does a few close-ups on Cordy, Willow, and Buffy, while quite a bit of conversation carries on. When the camera cuts back to the far-away shot, the couple is still walking — and has even moved back a few feet. — Submitted by Mathew.
Back to Top
Notes
On April 20, 1999, in Littleton, Colorado, two teenage boys committed mass murder at their high school (Columbine High School), injuring many and killing 13 before killing themselves. Because of some similarities between this incident and the plot of "Earshot," that episode was delayed. Also due to this incident, as well as a number of "copycat" incidents, a last minute decision was made to postpone this episode as well (due to the fact that Buffy blew up the high school), although it had already aired in parts of Canada. (Joss Whedon, while he suppored the delay of "Earshot," wasn't so supportive of this, telling fans to "bootleg the puppy.") The WB eventually aired "GD2" on July 13th, 1999.

More research-worthy books: the Kippler volumes.

At the time of this episode's first airing, some fans insisted that Harmony and/or Larry could have survived. However, Harmony's death was later confirmed onscreen (she turns up later as a vampire). Larry's death was pretty clear in the shooting transcript (his "neck cracks sickeningly as he hits the ground"), and in the DVD commentary for "Earshot," Jane Espenson mentions that Larry died in "GD2."

For the third time (see "Becoming, Part Two" and "Amends"), we are treated with a special "Grr...argh" thing. This time the little monster guy wears a graduation cap. MPG (500K)
Back to Top
Comments
I've got a couple of words to say about this episode... it was excellent! Joss has really outdone himself this time. But granted, I was just as confused with the dream sequence as any of you were. I think we all tried reading more into it than was meant. I'm sure Joss is having a kick seeing us trying to figure out what the hell 7-3-0 means. Anyway, the hubbub about this episode was definitely overrated. Granted, if something violent happened at a graduation, the media would have been airing clips, but it in no way means that it would have caused it. Anyway, I guess it's time to get of my soapbox before I really get going and start reviewing the eppy again. Geez, the scene where Angel is feeding of Buffy was beautifully done. I only wish I could get my hands on some sort of director's cut of this episode and see what other stuff the WB had balked on (maybe when we get some eps on DVD; now isn't that wishful thinking). I also wish the WB had more money budgeted to "Buffy" so we could have seen a better explosion of the school and the Mayor ripping through it chasing the Buffster. Anyway, I only have one complaint: the soap opera routine of putting Faith in a coma so she can possible come back later. But, on second thought, that may be better than us thinking she was dead all the way up until the point that she decided to come back (if she ever does). Nevertheless, this was a nearly flawless episode, but I hesitate to give it a perfect 10, because I know that the Almighty Joss can even out-do this episode. (9.5/10)
Well, straight off, let me just say that I do not understand why this episode was postponed. Yeah, I've read all their lame excuses, but I just cannot comprehend what really went on in the execs' minds. ("Hey, I've got an idea! Let's shoot ourselves in the foot! We'll cancel the second part of the finale — at the last minute, and after some people see it in Canada! That way, we can alienate the fans, piss off the advertisers, get some negative publicity, and inspire a surge of bootlegging that we can whine about later! Whoo-hoo!") But whatever. Anyhow, I'm finding it hard to gather my thoughts on this episode, probably because the situation surrounding it overwhelms the episode itself. As usual, Joss does not disappoint when he does double-duty. I'm digging on that cutaway from Buffy to the Mayor ("Okay, this is how it's going to lay out."). Watching Snyder get eaten was disturbingly pleasant; remember when he said (in "The Puppet Show") that Principal Flutie displayed "the kind of woolly-headed liberal thinking that leads to being eaten"? I guess totalitarian thinking leads to the same result. :-) Watching the school blow up was just good old-fashioned fun (and no, I'm not encouraging anyone to do this). This whole episode is just a damn good metaphor for high school, particularly graduation. And I love Oz's line at the end; it completely sums up what Joss has been saying all along: high school, and being a teenager, is way tougher than fighting demons. My main complaints are in regards to the Mayor — I really didn't want him to die. I knew he would, but I still hoped. He is the most fun villain ever. And that "Well, gosh" thing (right before he explodes) sounded cool when I read it in the script, but it ended up sounding silly. They should have just used his regular voice. (9.5/10)
Back to Top
Nielsens
Air Date
Rating
Ranking
July 13, 1999
4.4
73 of 126 (tie)
Sept. 28, 1999 *
2.8
107 of 145 (tie)
April 03, 2000
1.9
104 of 138
* Ratings for both GD1 and 2, aired together as a "movie."
Back to Top