After returning home, Buffy is anxious to see all her friends and get back into her life. Her mother, pausing from hanging a grotesque (she says exotic) Nigerian mask on her bedroom wall, is having trouble adjusting but she's trying hard. It doesn't take long for Buffy to find Willow, Xander, Cordelia and Oz and to save them from a vampire they were attempting to slay.
After going to see Giles, Buffy's life seems to be returning to normal, but a seriously hostile meeting with Principal Snyder seems to put a bump in the road—she still can't return to school, he gleefully informs her. Willow fails to meet her as planned that afternoon, and Buffy glumly returns home. There she meets Pat, a friend of her mother's who cheerfully makes Buffy feel even worse about having left Sunnydale. Her mother has invited Giles and the gang over for dinner the next night, and when Buffy goes to the basement to get the good plates, she finds a photo of her and Willow and Xander which makes her even sadder—and a dead stray cat. She and her mother bury the cat in the backyard, but that night while they sleep, the eyes of the Nigerian mask in Joyce's bedroom glow red and the dead stray claws its way through the dirt and skulks away, growling.
Buffy dreams of Angel again, and wakes up to her mother's news that she's speaking with the school superintendent, and that she's looking into the possibility of a girls' private school for Buffy. Buffy is less than thrilled with this development, but as they argue the point, Joyce opens the back door and the formerly dead stray cat runs in. Giles arrives to collect the undead kitty, noticing the Nigerian mask on Joyce's wall, and takes it back to the library where the gang overrules him and decides the dinner at Buffy's house that night will instead be a big party with Oz's band playing and everything.
The party gets underway with everyone in Sunnydale, it seems, in attendance, including Joyce's friend Pat. Buffy confronts Willow about her seeming avoidance of her, but Willow assures her that everything's cool and goes back to the party. Up in Joyce's room, the mask's eyes glow red again, and the dead start to rise all over Sunnydale and shamble towards the Summers house.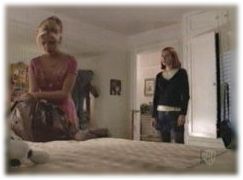 After a less-than-heartening talk with a preoccupied Xander and Cordelia, and then overhearing her mother complain of the difficulty in having Buffy back home, a distraught Buffy storms up to her room and starts packing, seemingly in preparation to run away again. Willow catches her in the act, however, and berates her for giving up again. While their argument escalates, Giles finds a picture of Joyce's mask in a book at the library. Horrified, he jumps in his car and speeds off to the Summers house, but hits someone with his car en route. When he gets out of the car, though, he finds that he has hit a zombie who, along with several other lurching undead, chases him back into his car. Back at the house, Joyce walks into Buffy and Willow's argument, which eventually goes downstairs and expands to include all Buffy's friends. As party guests nervously start to leave, Xander lays a heavy guilt trip on a tearful Buffy. The confrontation is about to turn ugly when suddenly an army of zombies break through the windows and doors and lay seige to the house, killing party guests and engaging Buffy and her friends in combat. Upstairs, one of the undead grabs Pat.
Buffy and friends succeed in getting many of the zombies out of the house, and take advantage of the lull to run upstairs, where they find Pat lying dead in the hallway. Giles arrives finally, and tells Oz and Cordelia (who were hiding) that the zombies are after the mask, and that whichever zombie puts it on will become a demon incarnate. Unfortunately, before they can get upstairs, Pat rises and puts on the mask. A flash from her eyes paralyzes Buffy and then Willow, but before Pat can kill Willow Buffy recovers and tackles Pat, crashing through the window to the lawn outside. There Oz tries to relay Giles' message that the demon's power is in its eyes, but he is frozen by the demon's eye-flash before he can tell her. No matter—Buffy takes advantage of the distraction to drive a shovel through Pat's face. The demonic Pat and all the undead disappear immediately.
The next day, Giles confronts Snyder about letting Buffy back into school, and even seems to threaten the diminutive principal with physical violence. Meanwhile, Buffy and Willow seem to be patching up their relationship, bonding over Willow's revelation that she's been studying witchcraft over the summer.